SAVE 10% THRU APRIL 1ST– MADE IN THE USA!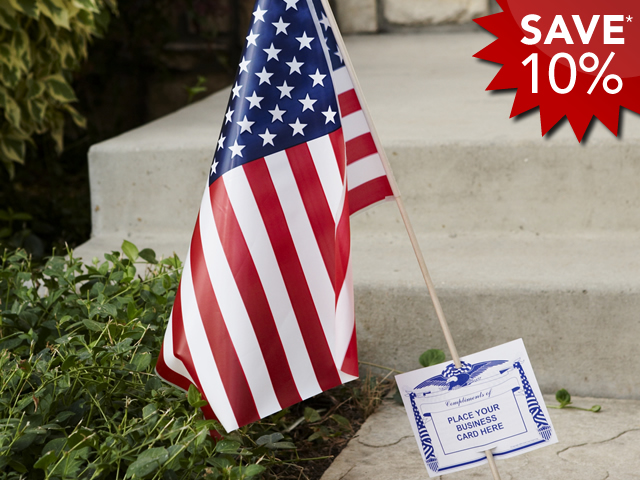 Product
Item#
Qty. 250
Qty. 500-1,750
Qty. 2K-4,250
Qty. 4,500-7,250
Qty. 7,500-10K
Flag
G446

$0.46

$0.414

$0.44

$0.396

$0.42

$0.378

$0.40

$0.36

$0.38

$0.342

Card
G447
$0.06
$0.06
$0.06
$0.06
$0.06

Please Call to Order: (888) 423-9623




Product Details:


All orders must be accompanied by payment IN FULL, including shipping and packaging. All orders will be shipped surface unless otherwise specified. All items shipped F.O.B. factory. California residents must include applicable sales tax.

You may use your MasterCard, Visa or American Express.

Damaged merchandise MUST BE REPORTED IMMEDIATELY TO LOCAL CARRIER. No claims allowed unless inspected by delivering carrier. We will not be responsible for razor or knife damage done to merchandise while opening parcels.

NO RETURNS WITHOUT WRITTEN AUTHORIZATION. There will be a 20% restocking charge where applicable.

MERCHANDISE IS GUARANTEED.

FOR ALL RETURNED CHECKS THERE IS A $20.00 SERVICE CHARGE.

PRICES SUBJECT TO CHANGE WITHOUT NOTICE.




*Sale Details & Instructions:


*10% OFF SPECIAL ENDS APRIL 1, 2013
Place a group order to receive quantity discounts and save on shipping.
Plus shipping & handling and sales tax where applicable.
All orders must be called in or emailed/faxed with completed order form.
Flags & Cards are available in increments of 250 units only.