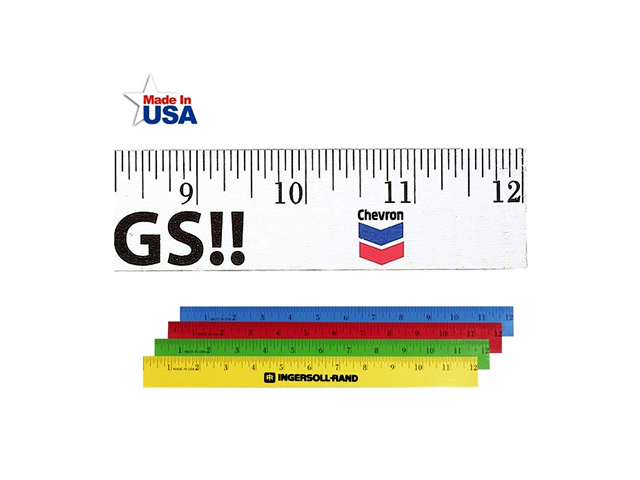 Qty. 500
Qty. 1000
Qty. 2500
Qty. 5000
$0.45
$0.335
$0.29
$0.26
Pricing Includes: the English scale with your straight-line ad copy printed below in one color on one side. Unless otherwise specified, factory will ship assorted colors with a black imprint.
Item Colors: Red, Blue, Yellow, Green, White.
Imprint area: Price includes 40 characters and spaces. Over 40 characters and spaces, add $0.125 per letter.
Imprint Colors: Black, Red, Lt. Blue, Dk. Blue, Green, Brown, Orange, Maroon, Purple. Black is recommended.
Size and Logo Height: Size: 5/32" x 1-1/8" x 12" Custom Size Rulers: Call factory for a quotation. Maximum Loho Height 1/2".
2 Day Service: Straight line copy only. No other options available.
Scaling and other options: Scaling: English, millimeter or 1/2 centimeter. English will be used unless otherwise specified. Metal Edge: $0.08 each. Colored Ends: $0.15 per ruler.
Setup: For Custom Logo or Typestyle, Add $25.00 per color (for every 3" in length).
Multi-Color Imprint: $50.00/M or less, per color, per side. (Cannot be close registration.)
Ink Color Match: $40.00 per color, per order. Cannot guarantee exact match on colored surfaces.
Additional Artwork: $50.00 per hour. See Art Specs for details.
Change Copy: $25.00 per change.
Change Ink: $25.00 per change.
Proof: E-proofs/Paper Proofs/Product Proofs - $25.00 each, per color. Artwork and logo charges are additional if required.
Second Side Print: Add $50.00 or less.
Less than Minimum: $40.00 Absolute minimum is one-half of the lowest catalog quantity.
Packaging: 1,000 per carton.
Weight: Approx. 35 lbs./M.
Fuel Surcharge: (In addition to freight charges) There is a surcharge of 4.75% on Ground Shipments and a 16% on Air Shipments.