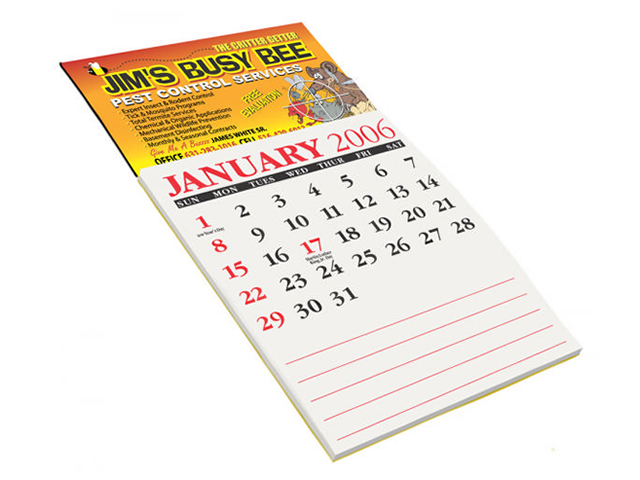 Item#
Description
Qty. 250
Qty. 500
Qty. 1000
Qty. 2500
Qty. 5000
9017-3PCAL
One Year Calendar Pad
$1.32
$0.98
$0.82
$0.72
$0.65
A great combination...Our full color business card magnet attached to a Calendar Pad.

Pricing includes a four color process imprint or up to six spot colors on a white, laminated, business card magnet - attached to a stock imprinted Calendar Pad.
Calendar Pad is 12 months (sheets). Calendar year 2008 will be used unless otherwise specified on purchase order. Calendar Pad imprint is stock and not alterable. If custom print is required, call for quote. Calendar Pad dimensions are always 3-1/2" x 4". Overall product dimensions are 3-1/2" x 6". Business card magnet dimensions are 2" x 3-1/2". Business card magnet thickness is standard 30-mil, which is more than adequate as a note holder.
Copy Changes: $20.00 per change in minimum quantity increments of 250.

Imprint Bleeds: Imprint Bleeds are no charge.

Imprint Color: Orange (PMS 165), Red (PMS 485), Maroon (PMS 202), Brown (PMS 161), Green (PMS 348), Dark Green (PMS 343), Teal (PMS 328), Blue (PMS 293), Process Blue, Reflex Blue, Dark Blue (PMS 281), Purple (PMS 266), Cool Grey (PMS 5), Cool Grey Dark.